Your gift to the world will always be found where your joy and enthusiasm run deepest.
Is my Life Coaching service for you?
| | |
| --- | --- |
| You're feeling stuck. | You've a business idea that lights up your soul (and has done for years) and it's now time to act on it. |
| You've achieved success but don't feel fulfilled. | You've a sense life is passing you by. |
| You're seeking clarity as to what is the next step for you. | You simply feel 'blah' and crave more fun, adventure and joy in your life. |
Life (Personal) Coaching – My Approach
I believe that we each have a blue-print for living our best lives deep within us – a purpose that is engraved on our souls. This is the life that will bring us the most happiness and greatest fulfillment with the least effort.
Over the years, it has been my privilege to work with a wide variety of people who want to step into their own power and fully inhabit their lives. No aspect of my work gives me more satisfaction than helping my personal coaching clients connect with their gifts and then how to share them with the world.
During the coaching session, your desired results are my sole focus. I'm constantly amazed at what is created when we sit together in a space of trust, honesty, and commitment.
Have a look at our interview skills coaching page to know what we offer there.
Personal Coaching sessions are three hours in duration (the vast majority of clients get what they need after a single session.)
Coaching sessions take place at my offices in The Crescent Building, Northwood, Santry, Dublin 9 or via Zoom.
The process starts by you completing a Pre-Coaching Questionnaire.
Getting Started – Some Self Reflection
All of my Life Coaching clients are seeking change in their lives.
So:
What change is trying to take place in your life?
If the world was working perfectly for you, what would be different?
What does a challenge you are facing ask of you that you are still withholding? (that's a deep one!)
Life is a dance between our greatest fears and our loftiest dreams.
JAMES SWEETMAN
The meaning of life is to find your gift, The purpose of life to give it away.
JOY J. GOLLIVER
TAKE THE NEXT STEP
Book Your Personal Coaching Session
If you feel my Personal (Life) Coaching services would be of benefit to you right now, send me an enquiry and we can have a discussion about your requirements and desired outcomes.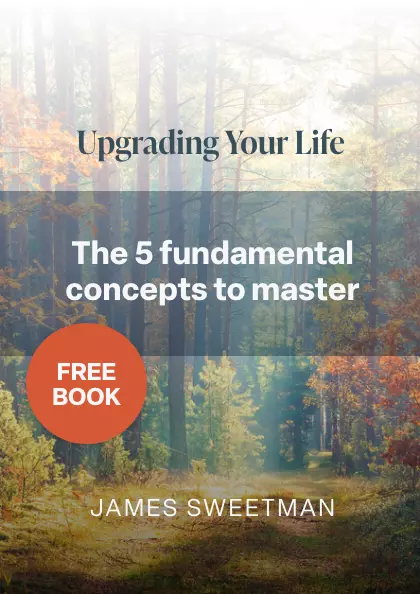 Become part of a like-minded community and stay up to date with all my articles, podcasts and events. You will receive my popular monthly ezine Next Steps, first published in May 2004. I value your privacy and of course you can unsubscribe at any time.
By joining the community my gift to you is a free eBook "Upgrading your Life – The 5 fundamental concepts to master".