"James is much more than a coach and talented speaker. He's your personal guide to unleash the power of self-awareness while driving you through the most unexplored place of your life: yourself. James is like a "killer application" – a " must have app" for your life and your business."
D Recalcati
Area IT Manager, Microsoft Italy
"James is much more than a coach and talented speaker. He's your personal guide to unleash the power of self-awareness while driving you through the most unexplored place of your life: yourself. James is like a "killer application" – a " must have app" for your life and your business."
D Recalcati
Area IT Manager, Microsoft Italy
Motivational Speaking – My Approach
My intention when speaking with audiences is to share practical insights in a thought-provoking and engaging way. Whilst audiences describe me as a motivational speaker, I view my style as authentic and honest and from my twenty years of experience, this is what audiences really relate to. A healthy dose of appropriate humour is also important.
My talks fall under the umbrella headings of Authentic Leadership and Personal Development. As well as sharing distinctions and tips, I always endeavour to leave audiences feeling upbeat, empowered and with a renewed sense of possibility.
If you are a conference organiser we will start by having a chat about your desired results for your event, what you feel your audience would find useful and most importantly how you would ideally like your audience to think and feel after my talk. Based on my experience of speaking with thousands of people over the years, I will offer some ideas that I believe will work well and through this consultation process we will finalise the content.
My talks can be tailored to accommodate different time slots and many topics can be expanded into a more interactive workshop depending on your specific requirements.
Authentic Leadership
Having the confidence to be yourself
What does authentic leadership really mean?

The three foundation blocks of authentic leadership

Taking full ownership of our behaviours, attitudes and responses

Why true leaders take responsibility for the energy they bring into a room

Developing the confidence to show up as our best selves

The relationship between Thinking, Feeling & Acting that is central to 'managing our own state'
Work/Life Balance
Finding Equilibrium
How to really measure your current work/ life balance

Ways to ensure 'personal life' is not just what's 'left over' after work

What's your blueprint for a more equitable work life balance?

Why it's no longer work life balance, but work life blending

Why it's all about tolerances and boundaries

Simple strategies for 'switching off' and quietening a busy mind
What is motivation? What motivates and inspires us?

Common motivational factors including the 'needs' we seek to satisfy in and out of work

Factors that drive behaviour in ourselves and others

Practical tips for boosting your motivation including how to develop a results-focused mindset
Managing Change
What life is like outside your comfort zone
People don't resist change, they resist feeling uncomfortable

The concept of comfort zone (behavioural, attitudinal & emotional) and how we make our lives 'more comfortable' by forming habits and routines

What habits are no longer serving you?

How we respond when we feel on the edge of, or outside our comfort zones

Overcoming fear, both real and imaginary

Reframing change for ourselves and others
Personal Branding
How to consciously enhance your reputation
What is Personal Branding and how it differs from reputation

Why personal branding is important from a leadership and career development perspective

The factors that influence your personal brand

Why creating a personal brand means taking ownership of your behaviours, attitudes and emotions

How to start shaping your own brand

Raising visibility for the right reasons
Testimonials
Positive, insightful and motivational, with a natural presentation style – James's talks and workshops are one of the highlights of our professional programme.
Peter Johnson
Director, Jobnet
Testimonials
"After you reach a certain age, people (including me) tend to think that they've seen it all, done it all, 'nothing can surprise me'- man was I wrong! What James presented to us was nothing short of amazing."
A. Williams
Microsoft Norway
Testimonials
We engaged James to conduct one of our Keynotes at PM Summit. Without doubt James had the audience in the palm of his hand and was the ultimate professional whilst doing so. He injected just the right balance of humour into his address but at all times never watering down his key message. James brings a sense of calm, stability and in-depth knowledge of human behaviour to such events. Our dealings with James leading up to the event was professional at all times and I can highly recommend him as a Keynote!
R Poole
CEO, PM Summit
A thought-provoking and stimulating talk is a great way to set the tone for a conference or meeting, or to serve as an energiser in an afternoon session. Get in touch with me and we can chat through how I could add value at your event.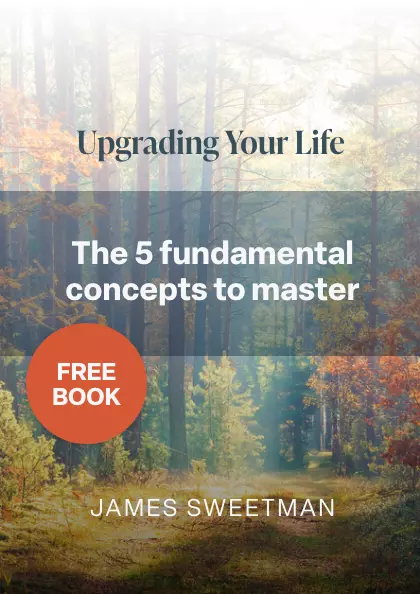 Become part of a like-minded community and stay up to date with all my articles, podcasts and events. You will receive my popular monthly ezine Next Steps, first published in May 2004. I value your privacy and of course you can unsubscribe at any time.
By joining the community my gift to you is a free eBook "Upgrading your Life – The 5 fundamental concepts to master".