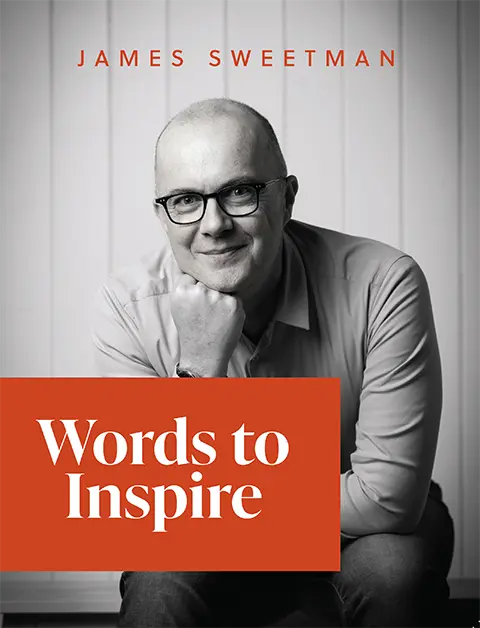 NOW AVAILABLE IN HARDBACK
We've all been through a lot. We carry worries and insecurities that others usually know little about. There are times when we need some encouragement, words that will capture our mind, engage our heart and enliven our spirit. In this charming, quietly life-enhancing book, James Sweetman's compassionate insights and thought-provoking questions offer respite from a turbulent world and busy lives. 'Words to Inspire' explores over sixty themes that have become part of modern day living. From feeling stuck and coping with change, to dealing with difficult people and learning to be less tough on ourselves. 'Words to Inspire' is a hardback book, in full colour with beautiful images throughout. It will fit seamlessly into your self-care routine and would also make an ideal gift.
"As always, James manages to ask the questions that we couldn't ask ourselves. I know I will read "Words to Inspire" many times over, as I have done his other books. His wisdom enriches and allows us to look within in and find our unique inspiration." Sofi Musleh
"James's book was so impactful and I had so many A-HA moments as I read it. His way of taking big theories and breaking them down into simple guidance and action steps gave me so much to take away. It's a book I'll pick up again and again as you apply the tools and the wisdom to your life. " Georgina Durcan 
"In today's busy world, 'Words to Inspire' offers us over sixty calming reminders to reflect on. A great coach doesn't give answers, instead, they ask powerful questions to unlock a better way forward for their clients. In true coaching style, James Sweetman asks thought-provoking questions throughout this book that I have no doubt will empower each reader to reconnect with what's truly important in life. A must read!"   Eileen Hopkins
"Each chapter is perfectly crafted and so thought provoking, informative and inspiring. James has a real gift for taking the big and complex topics and distilling them down to their essential components. This book will be much quoted and the questions help us put the theory into practice." Marian Byrne
"James' wisdom shines through the pages of this book. His words get right to the heart of who we are at our most vulnerable. It felt like someone understood me completely and was guiding and supporting me on my journey!! This book feels  like a warm hug." Shirley O'Neill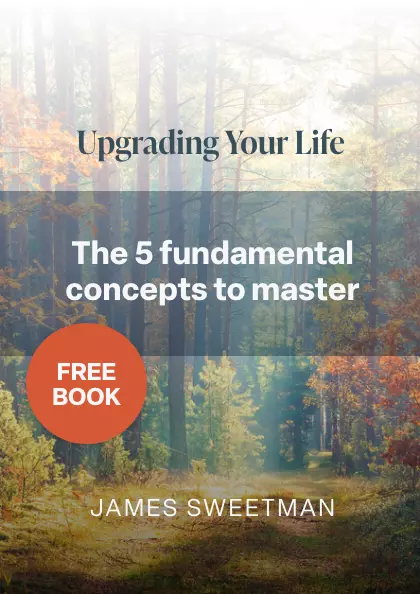 Become part of a like-minded community and stay up to date with all my articles, podcasts and events. You will receive my popular monthly ezine Next Steps, first published in May 2004. I value your privacy and of course you can unsubscribe at any time.
By joining the community my gift to you is a free eBook "Upgrading your Life – The 5 fundamental concepts to master".